05.10.2023 Updates in Trumpauto software
5.10.2023 there are two main updates in the software.
Sales Invoice report has more details – we have added columns regarding purchase and sales prices of products and services plus working hours per sales invoice.
By default all columns are selected
If there is too much information for your taste, please use button "hide columns" and select only relevant ones for you!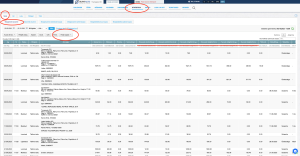 On the work sheet when adding services from stock module you now immediately assign a resource to the work. There are some prerequisites:
For this feature to work you have to have more than one resource added to work (in case of 1 resource, it is selected automatically)
"Add from storage" button opens stock module, from where you search, select and add a service but can now also select resource from the dropdown menu!
On the work sheet under resources view you can "add work duration" to the selected resource
Added work duration is shown in the Employees Statistics